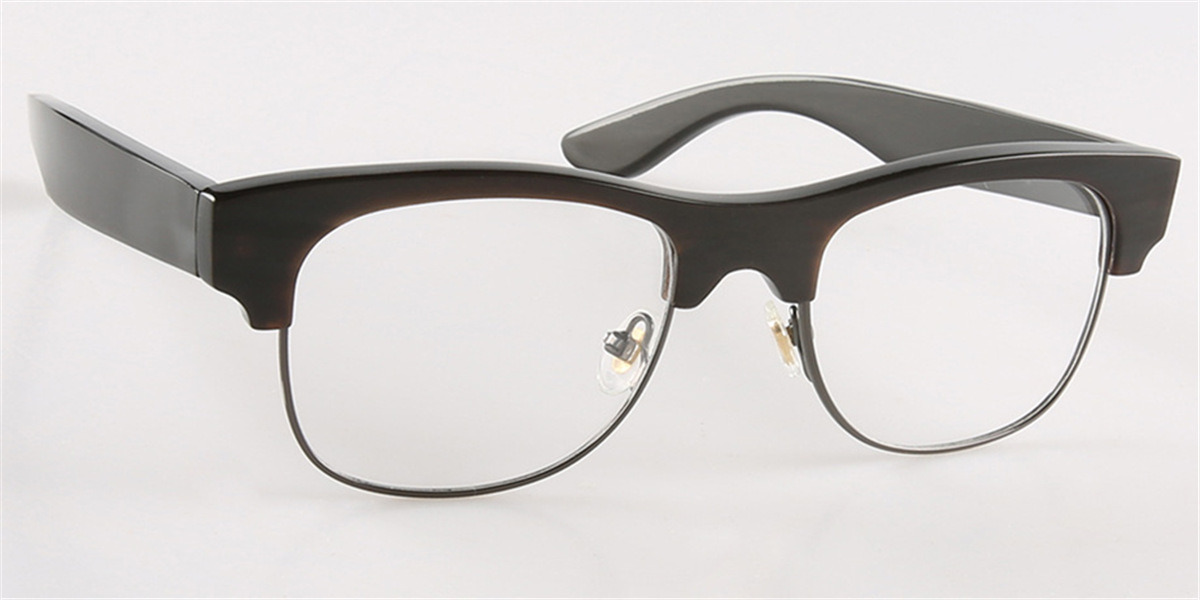 Browline Glasses Born for a Narrow Forehead | FramesFashion
Known as horn rimmed glasses, they feature a bold top frame that sits across the eyebrows and a more subtle metal-framed bottom. This special design brings more balance to a narrow forehead.
Read more/less

Reminiscent of 1950s nostalgia, browline frames recently experienced a renaissance thanks to the hipster fashion movement.

Browline glasses became the most popular style of glasses around, accounting for half of all eyeglasses sold in the 1950s. The bold top eye-catching designs graced the faces of many celebrities such as Malcolm X, Lyndon B. Johnson and Vince Lombardi. Did you know that even colonel sanders wore browline glasses?

Based on classic Browline glasses design, Nowadays, The industry has evolved some alternatives like wood browline represent environmentalism trends

Your glasses are one of the first things people notice about you

Do they give the impression that you're wild? Or that you keep to yourself?  They are Statements of Fashion. "Fashion is an instant language" Miuccia Prada. Style means expressing yourself as an authentic and unique being. The appearance tells a lot about a person. The way he dresses, the glasses and shoes he wears, even the fashion style of glasses will tell us about the mood of the person.

Change Your Life from a Pair of Glasses

"Image determines influence" Dressing is an art of "deception".Glasses can help you reform your image.

What Can Fashion Glasses Help for Your Image Engineering? 

It can make you look younger or older 
It can make you look more intelligent, because people will think you read more
It can make you look more honest.
It can make you look more gentle or aggressive
It can make you look more attractive or annoying
It can make you look like in a higher social class
It can make you look more reliable or trusted if you're wearing glasses with rims
It can make you look sexy
It can hide your intentions
It can make you look more affirmative and passionate 

It can also let people know you're fashion conscious and sometimes anxious about your social image when you wear big logo glasses.

Recruitment experiments conducted by some psychologists indicate that the applicant's appearance determines their interview results in some circumstances, so sometimes the candidate's image is even more important than academic qualifications and qualifications. 

A good image seems to mean high ability, high work efficiency, high credibility, although the appearance does not reflect your inner sufficiency, but in many cases, others see your philosophy of life through appearance. Fashion glasses can shape your image according to your needs. 

Fake it till you make it. You are what you wear! 

No matter what style you wear, you don't have to wear any style, you have to have your own style.