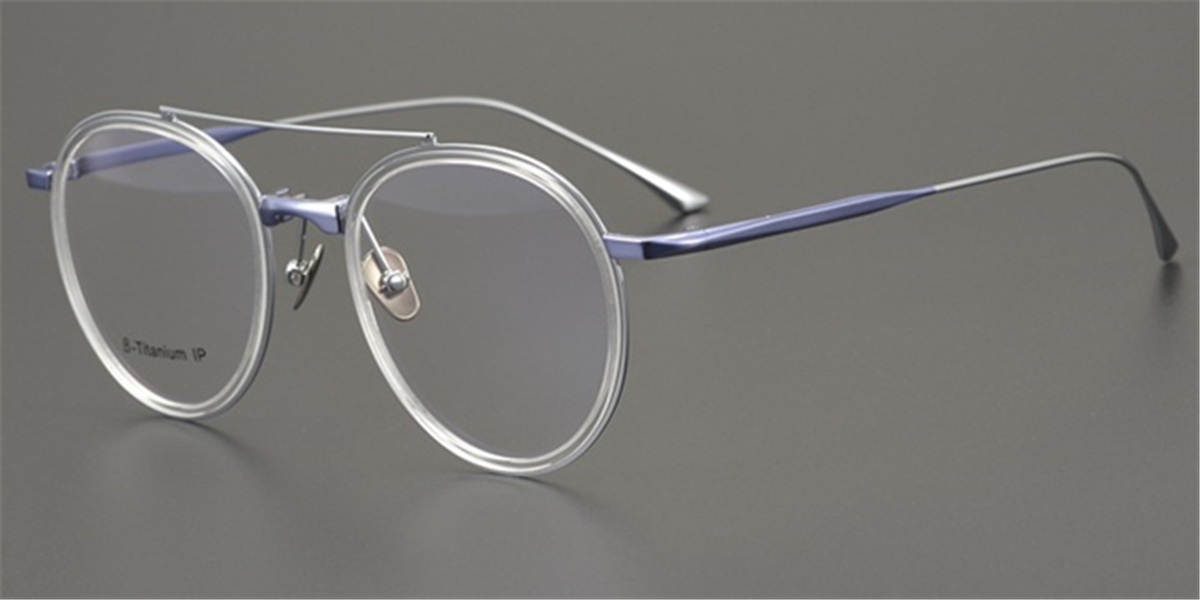 What are clear glasses?
The name "clear glasses" can refer to both the lenses (the material you look through) or the frames. 
"Clear lenses" is the term used to describe lenses that do not have prescription associated with them and also refer to plano lenses. Clear lens is not the focus of this article and we will focus on Clear Frames.
Read more/less

Clear glasses if refer to frames, also called transparent, describe glasses with clear, colorless, or light transparent color frames. 

Most transparent frames are made of a specialized plastic material called acetate or propionate. Other plastic frame materials include nylon, polyamide, carbon etc..

Clear frames can be almost colorless, leaving them nearly invisible on your face, or have a slight tint of color to them. 

Glasses can be a Statement of Fashion.

"Fashion is an instant language" Miuccia Prada. It tells your peers your personality. "Image determines influence" Dressing is an art of "deception".Glasses can help you reform your image.A Pair of Glasses Can Change Your Life,taking a new pair of frames is a great way to reform your image. 
A good image seems to mean high ability, high work efficiency, high credibility, although the appearance does not reflect your inner sufficiency, but in many cases, others see your philosophy of life through appearance. Fashion glasses can shape your image according to your needs. 

Fake it till you make it. You are what you wear! 

No matter what style you wear, you don't have to wear any style, you have to have your own style.

What is the clear glasses trend in 2021?

When people like bold glasses, they will select the frames in black, brown, or tortoiseshell. Clear frames are another option for making a fashion statement with your eyeglasses. Our search data show that they've gotten more popular in 2021. Clear eyeglass frames have increased in popularity over the past decades. Celebrities such as Sarah Hyland, Gigi Hadid, Jackson and Tom Hanks have been seen wearing stylish clear glasses.

Will the clear glasses trend continue in future? Yes! Why?

One reason they are so popular is that they're very easy to wear with almost any skin color and dress color. Frame shapes can range from petite,perfect round, chunky and bold. Some have light colors, such as blue or grey, making the frame look even more jewel-like.They complement almost any complexity and look fine on most face shapes. Another benefit of wearing clear glasses is that you can try with oversized and bold cat-eye frame styles since they don't dominate the face that darker frames may do.
The advantage of transparent glasses is that they look good on almost everyone. They are complementary to any age, hair color, eye color or skin color. Moreover, because they're clear, the frames don't distract from one's facial features. On the contrary, they highlight the eyes and cheekbones.
Clear eyeglasses are also easy to compliment with anything in your closet.They can transform from "work in the office" glasses to "night out on the town" glasses.

How To Select?

The shape of glasses is the most important when selecting frames and also you want to find a pair which fits your face and expresses your personality.
There are roughly six types of face shapes, each with corresponding frame shapes that are the most complimentary:

Square Face

Frames with rounded edges, such as round, oval, aviators or Clubmasters, counterbalance the strong, angular facial features. 

Round Face

Angular frame shapes, including cat-eye, rectangular and geometric frames.

Oval Face

An oval-shaped face is a well-balanced face that fits almost any frame shape.

Oblong Face

Oblong faces are defined by their Ratio of length to width. The length is  about twice as long as the width. Frames with a bold browline or semi-rimless frames help balance the length of your face. Do not select narrow frames.

Heart Face

Thin, titanium and rimless frames balance the wide forehead

Diamond Face

Dominant cheekbones are seen in most people with diamond-shaped faces. Browline glasses, Clobmaster, Cat-eye and bold top semi-rimless frames distract the focus away from the cheeks and onto the eyes.

The tip for making your clear glasses stand out is to pick an oversized frame

Always in style and easy to wear on any face shape, Oversized frames will make your clear glasses easier to spot even from a distance and make a more dramatic fashion statement. 

Two Secrets For Dressing with Clear Glasses 

1) A light color outfit. Darker colored dresses tend to dominate and take eyes away from your frames, while lighter colors will help make them stand out.
2) Neutral or light makeup. Strong makeup does not balance well with clear glasses. Apply your makeup lightly and select light, more neutral colors for your lip and eyes.