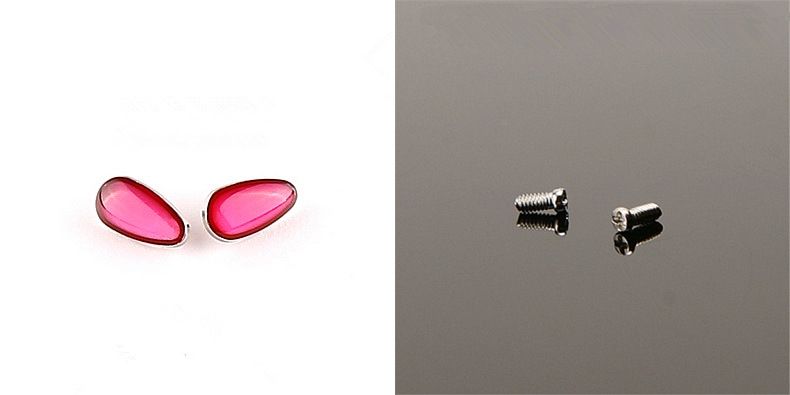 Glasses Parts for Eyeglass Repair-Nose Pads.
We Provide a wide range of replacement nose pads for your favorite pair of glasses
Replace your old or worn out nose pads with a fresh pair from
The bridge and nose pads
Bridge width is the second number in the string (48-20-139) and is important in determining fit.
The bridge measurement is the distance between the lenses. If you have a narrow bridge or close set eyes you will want this number to be lower (15mm to 18mm) if you have a wider bridge or wide set eyes this number can be higher (20mm to 24mm).
Also consider the location of the bridge in relation to the browline of the frame. Frames with bridges that are even with the browline are great if the bridge of your nose is higher on your face (above your pupils). Frames with a lower bridge and a more arched browline are best if the bridge of your nose is lower on your face (approximately even with your pupils).
LOOK! you can adjust nose pads arm to let frame fit you.
Nose pads are easy wear and tear and lost Nose pads are attached to pad arms, which are welded to the frame front.
Nosepad arms are made of a strong and endure metal so that they can be adjusted (bent) during a fitting. This metal is then welded on to the frame front which could be made of titanium, monel, stainless, or other materials. Nosepads are attached either by a screw (screw-in nosepads), or they are push-in nosepads which require no screw.
Most nosepads are designed this way so that the nosepads can be replaced when they wear out. Acetate frames, and some metal eyeglasses frames do not have nosepads; they have a saddle bridge construction. This term refers to a style of bridge in which the arched portion of the bridge lies directly on the bridge of the wearers nose. Saddle bridges are more common with plastic frames than with metal frames.