Reasons That Make Framesfashion A Go-To Store For Glasses & Frames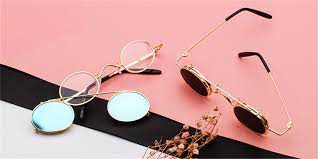 Have you ever tried buying glasses online? Maybe not! It is probably because you get concerned about size, quality, and service issues. But don't worry anymore. These days, these concerns have no valid existence. Online stores try their best to offer products and services up to customers' expectations. 
For example, stores like Framesfashion are here to break the stereotypes. They offer products like no line bifocal sunglasses polarized, and more to their customers. These products are enough to help you determine about the company. But if you need more such reasons, keep reading. 
Quality is a Big Factor:
Quality concerns are bigger than everything. People do not want to end up with low-quality products, especially when buying products online, because their expectations are always high. Therefore, online glass & frame stores like Framesfashion do not compromise quality even the slightest. 
Customization is a Positive Point:
Vision issues can differ from person to person. Moreover, people can have different preferences for lenses and frames. So, to fulfill all these preferences, online stores like Framesfashion step forward. They offer high-quality custom made glasses to their customers. You can choose frames and glasses. Customization makes buying glasses from online stores more convenient. Therefore, a lot of people shifted their focus to these online stores like Framesfashion. 
Not to Ignore Fashion Statement:
Glasses are a part of fashion now. Whether people have to wear sunglasses, prescriptive glasses, progressive glasses, or protective ones, they try to choose something that matches their style. Stores like Framesfashion do justice to this customer demand and offer fashionable glass frames. Moreover, you can choose frames for your prescription glasses from this store too. 
Cost of Glasses & Frames:
Stores like Framesfashion try to break the stereotypes. Lens manufacturing companies try to maintain their monopoly in the market. But Framesfashion and other stores like this one can help people get lenses at low costs without compromising quality. Similarly, frames like High Prescription Glasses frames, etc., available on Framesfashion are of low-cost too. In this way, you can get both lenses & frames at a low cost. It is a win-win situation for you. 
Buying glasses & frames from Framesfashion is one of the best choices for you. These stores stick to their promises, so buying products from them is your benefit. Moreover, purchasing from these stores means you do not need to worry about anything. 
To get introduced to more offers, go to https://www.framesfashion.com/