What is the Difference between Reading Glasses and Computer Glasses?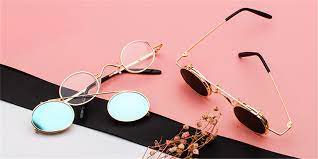 When you are trying to get safety glasses for reading usage, you might get confused between computer glasses for screens and traditional reading glasses. If you look at the features, computer glasses may seem similar to reading glasses, but this doesn't mean they do not have functional differences. Additionally, it doesn't mean that you can't have the benefits of reading glasses and computer glasses with the same lens. To clarify this confusion, we have listed some reasons why you don't have to settle for just one of these glasses when you buy stylish rimless titanium glasses.
What are Reading Glasses?
Doctors often prescribe reading glasses to enhance the experience of reading. They come with a predetermined magnification lens that can assist in reading. With time, our eyes' ability to read reduces. These changes can be due to a condition called presbyopia. This condition is also reported in young people due to excessive use of mobile phones and computers. To counter this issue, you can start using reading glasses with an appropriate magnification lens. Sometimes, you don't even need a prescription to use these glasses. You can try different magnification lenses and find out the best power of magnification that suits your vision. 
What are Computer Glasses?
Computer glasses are popularly known as screen glasses or blue light glasses. These glasses are equipped with a coating that prevents blue light from entering the glass. Screens like computers, mobile phones, and TVs give out blue light, which may harm our eyes. If your reading glass has a blue light filter, you can experience the best of both worlds. Computer reading glasses can not only reduce the strain on your eyes, but they can also provide the right magnification to read on devices like phones, tablets, and laptops. 
Which Glass is Right for You?
If you are experiencing trouble reading or are afraid about the damage that blue light does to your eyes, you can prefer these glasses for everyday use. Both reading glasses and computer glasses are incredibly beneficial for your eyes. What's more, you can buy them in amazing designs like round rimless glasses online. 
About Framesfashion:
Framesfashion is a well-known and established firm that specializes in eyewear. It provides a wide range of stylish eyewear accessories like prescription glasses, no line bifocal sunglasses polarized, oversized frames, and more on its online store. 
To find out the best glasses for you, visit https://www.framesfashion.com/