How Fashionable Glasses Can Change Lives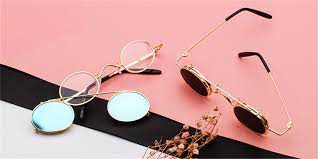 Are you someone with low confidence? Do you think your glasses add to your misery? This should never be the case. Today, glasses are enough for making a fashion statement and transforming your personality. All you need to do is visit a reliable website that can offer you high-quality glasses and prescription designer sunglasses.
Instance#1: Stylish Glasses Helped William Get into a Relationship
William was always someone with low self-confidence and was not even able to interact with people with confidence. He was always conscious of how he looked. But his life completely changed when he discovered a website that offered stylish eyewear options. On this website, he found a perfect pair of glasses for himself that boosted his confidence to a huge extent. This way, he started interacting with people confidently and got into a relationship for the first time in his life. He thinks that none of this would have been possible if he wouldn't purchase stylish glasses.
Instance#2: Fashionable Glasses Helped Selena Get a Job Offer
Selena was done with her college education. She was preparing for several job interviews. That's when she learned she must wear glasses because of her poor vision. The world came shattering for her, and she did not perform well in a lot of interviews because of her ugly glasses. Her friend told her about a website that offered stylish glasses. Her confidence was back when Selena found a perfect pair of rimless glasses. The next time she went for an interview, she answered all the questions confidently and also managed to get a job.
Instance#3: Megan Made New Friends Because of Her Beautiful Glasses
Megan was always that shy girl who never talked too much and was an introvert. During High school, she discovered that she needed to wear glasses because she faced issues looking at the board. When she got a beautiful pair of glasses, many people started asking her where she got them. This helped break the ice between her and her classmates and also helped her make a lot of new friends. She truly enjoyed her high school life after that.
About Framesfashion:
Framesfashion is one of the leading companies that can provide you with round sunglasses men. This company always focuses on offering only the most high-quality glasses to all its customers. It also ensures the use of the finest material for manufacturing them. These glasses are also available at cost-effective prices.
To purchase glasses, visit https://www.framesfashion.com/